I lost my gift voucher activation code. Help!
Oh no! So sorry to hear that you cannot find your voucher code. You will need it to redeem your gift subscription and set up your remaining deliveries. 
1. If you have already received the tasting kit, the code is on a slip of paper, usually stuck to the lid of the tasting kit box. It looks like this: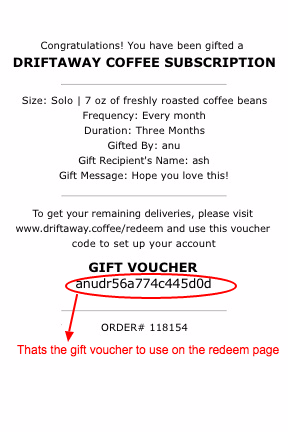 Threw away the box? No worries - Use our Code Locator here.
If you still can't find it, e-mail us with one of the following and we'll help you promptly -
1. Order number
2. Gift giver's full name and e-mail address
Located the code?
Once you locate the code, just have the recipient go to driftaway.coffee/redeem, enter the code and follow the instructions from there. It should only be a couple of minutes. You can re-confirm whole beans or pick a grind type, shipping address and shipping date in this process. You'll know you are done when you receive an order confirmation e-mail from us.
---
---